"AP Today: Bottlenecks, Benchmarks & Best Practices"
We surveyed 250+ AP and Finance experts. Here's what we learned.

Ever wished you could take a peek into the inner workings of other accounts payable teams to see how they run things? It's natural! Comparing against your own process can both inspire and expose opportunities within your own organization. In our latest Stampli survey – AP Today: Benchmarking the What and the Why – we asked AP experts and finance professionals across different industries and company sizes to how their teams are working.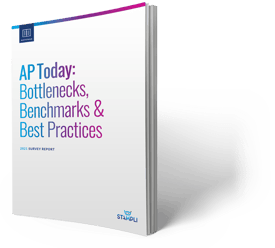 Download this free whitepaper to learn:
The invoice lifecycle averages across different industries
How payment timelines differ (if they do) across various company sizes
The biggest pain points for AP teams of all types
Plus more!
Get Your Free Copy Now
Download your copy to see how your AP team stacks up.
By submitting your information, you acknowledge that your data will be handled in accordance with Stampli's Terms of Service and Privacy Policy, and you authorize Stampli to send you updates about Stampli products, services, and events.