"How & Why Companies Choose Payment Types"
2021 Survey Report on the factors that go into how companies pay suppliers.
This cross-industry study discusses the key survey results from 361 participants from companies headquartered in the US, and offers specific recommendations for companies to leverage in managing how they pay suppliers.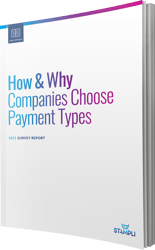 Read the How & Why Companies Choose Payment Types whitepaper for insights into:
How companies are currently making payments (i.e. checks, ACH, credit card, virtual card)
How companies choose to make payments
The hype around virtual and ghost cards
Why companies choose to suppliers by check vs. electronic payment types
Get your free copy
Download your copy to uncover how and why companies choose to pay suppliers by specific payment types and to benchmark your supplier payment methods.
By submitting your information, you acknowledge that your data will be handled in accordance with Stampli's Terms of Service and Privacy Policy, and you authorize Stampli to send you updates about Stampli products, services, and events.