"The How, The Why & The ROI of AP Automation"
2021 Survey Report features original data to illuminate why companies invest in AP Automation and the ROI they've experienced.
In this 2021 Original Stampli Survey Report, we reveal unique insights and stats from 400+ Finance and Treasury leaders on why they ultimately made the leap to AP Automation. The report highlights the nuances of how companies are using AP automation platforms, plus the specific ROI benefits they've seen post-adoption.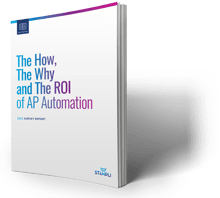 Download the The How, The Why & The ROI of AP Automation to uncover:
Identifiable trends among companies who are finding the most benefit from using an AP Automation platform
The most commonly experienced ROI of AP Automation across company size and industry
Information about average implementation time for AP Automation
A benchmark for who is involved with AP Automation investment
Recommendations for leveraging the most ROI out of an AP Automation platform
Get your free copy
Download your copy to uncover why companies made the leap to AP Automation, how they are leveraging the technology and the most commonly experienced ROI.
By submitting your information, you acknowledge that your data will be handled in accordance with Stampli's Terms of Service and Privacy Policy, and you authorize Stampli to send you updates about Stampli products, services, and events.